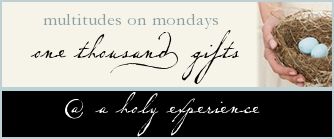 A friend of mine gave me this book written by Ann Voskamp just before we returned to Peru from our furlough. I have yet to read it, but everyone that I know who has read it raves about it. I believe now is the time to pull it off my bookshelf.
The past week and a half have been pretty hard for me. You know one of those times when God is shaping you and changing you for His Glory. Sometimes it is hard to be moulded and if your not willing it can be even harder. I have spent much time on my knees this week being broken. I have reached the point where I am no longer kicking and screaming resisting what God is wanting to do in me. I wish I would have surrender sooner but I admit sometimes I am stubborn and mercifully God allows me the time I need to adjust my attitude.
As I sit on the potters wheel and wait to be moulded I believe one of the ways to continue preparing my heart for growth is to remember all of the gifts, the ordinary, extraordinary, big, small, simple and complex gifts that God gives me each day. So begins my list of One Thousand Gifts.
Tucking in my children at night, when then put their arms around my neck and squeeze tight one last time for the day.
A steady breeze on a hot summer day.
God's patience with me.
If you would like to join me (and many others) in remembering God's gracious gifts in your life, just click on the photo link above.
Blessings,
Brenda